the new album
We Only Came to Dream
After a 20 year wait, the new Alias Zone album is finally out. Over the course of three extended pieces, Chris displays his Berlin School roots in the sweeping Ash Tree Window, while also revealing his spiritual, tribal/ambient side in the gentle Navajo-influenced Dream Catcher and the epic Aztec-themed Náhuatl – a special version of his SoundQuest Fest 2021 performance. Two pieces also contain flute solos by old friend Richard Bugg, who appeared also on Lucid Dreams.
Previews from the new album: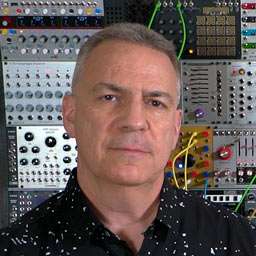 Alias Zone is Chris Meyer of LearningModular.com. Each piece starts with a sound that catches Chris' ear – may it be an Aztec poem, a cold war spy broadcast, an experiment on his modular synthesizers, a particular rhythmic pattern, or even something as simple as a terra cotta pot or Tibetan bowl being struck. From this core, he builds a story by researching the background of those core sounds, and then expanding upon them by conjuring his own alternate or "alias" narratives that support that core sound to flesh out the new worlds he creates.
Musically, modular synthesis is at the core of each new Alias Zone composition. However, Chris is unafraid to blend in ambient arpeggios and soundscapes, ethnic rhythms & percussion, software synthesis, and samples including spoken word in many different languages.
Modular World's First Anniversary
I will be performing a short set and giving an interview as part of Modular World's first anniversary show. More details about time and exact URL as the date gets closer; it will be a marathon show lasting over 24 hours.
SoCal Synth Society Summit 2021
I will also be performing a short set as part of the Southern California Synthesizer Society's annual Synth Summit. More details about time and exact URL as the date gets closer.
Performance = Composition
I'm actively looking for streaming events to perform in, as I treat each one is an opportunity to compose a new piece. If you have an event you would like Alias Zone to be part of, contact me using the form at the bottom of this page.
performed at Steve Roach's SoundQuest Fest 2021
Composed & performed by Chris Meyer of Alias Zone, using:
• "The Monster" modular synthesizer
• Waldorf Iridium, Korg Z1 & Wavestation AD polyphonic synthesizers
• rain gourd & shakers
• Aztec poetry from the Q Up Arts sampling collection Voices of the Aztecs
An enhanced version of this song is on the new Alias Zone album, We Only Came to Dream​
The original album
Lucid Dreams
The album that started it all, 20 years ago: Chris Meyer creating rhythmic loops and textural atmospheres as the backbone for live improvised performances by Richard Bugg's ensemble, Cosmic Debris. This release featured a strong ethno-ambient flavor combined with spoken word in a variety of languages, and won the 2002 AFIM award for Best Independent Electronic/New Age release. You can name your own price to get the digital version on Bandcamp, complete with PDF of the original artwork and liner notes.
Excerpts from Lucid Dreams:
Textures swirl and mutate, instruments morph, and sound effects roll across the stereo spectrum in a hallucinogenic stream of consciousness…
John Diliberto
Echoes
This is an excellent work, and fans of Mickey Hart, Bill Laswell, and new age alike will verily enjoy this eclectic recording.
Matt Borghi
AllMusic
An extremely rewarding, lush, and exotic journey.
Mark Isham
jazz musician & film composer
The music has a smoothness to it that draws you in. The sounds wrap around you and create a powerful image of musical vision. This is as good as it gets. Every song is amazing.
Michael Allison
The Global Muse
…a tantalizing disc, filled with ten of the most uniquely original tracks I have ever heard – each one enfolds you in a world of musically induced imagery. This is ambient at its most potent extreme to date.
Naomi de Bruyn
It asks to be listened and meditated to, and gives in return a deep experience of what music can be when it is thoughtful and deeply felt.
DJ ProFusion
World Fusion Radio
The spoken word parts melt perfectly with the chilled percussion and ambience.
Chi-Chi Padre
review on Amazon